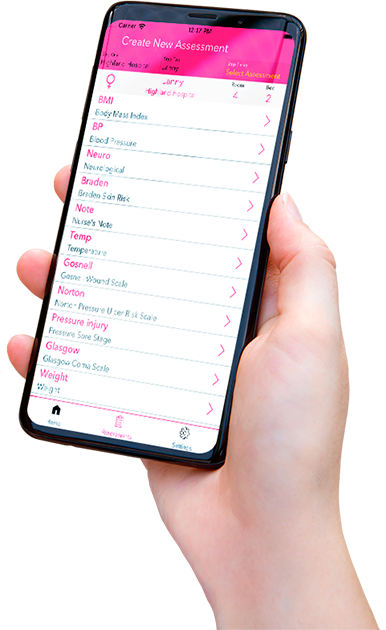 Which nursing
assessments
does it support?
More than 60 nursing assessments are implemented and planned.
Abdomen
Acuity and Stability
Allergies
BP (blood pressure)
Behavioral
Blood Administration
Blood Glucose Level (Diabetes)
Body Mass Index (BMI)
Braden Skin Risk
Cardiovascular
Care Coordination
Case Management
Central Lines
Clock Drawing Test (CDT)
End-Tidal CO2
Foleys
Functional Gait Assessment
Functional Status
GI
GU
Gait
General Practitioner Assessment of Cognition (GPCOG — dementia assessment)
Geriatric Depression Scale Short Form (GDS-SF)
Glasgow Coma Scale
HOH/ADA Special Needs
HR (heart rate; pulse)
Height
I/O
IV lines and fluid
Menstrual Cycle
Mini-Mental Status Examination (MMSE)
Musculoskeletal
Neuro
Newborn
Norton Pressure Ulcer Risk Scale
Nurse's Notes
OB
Pain
Pain, detailed
Photo of wound
Psychosocial
RR (respiration rate)
Required Documentation
Respiratory
Safety
Schmid fall risk
Shortness of Breath
Skin
Smoking
SpO2 (blood oxygenation)
Teaching and Discharge Plan
Temperature
The Confusion Assessment Method Instrument
The Confusion Assessment Method for the Intensive Care Unit (CAM-ICU)
The Multidimensional Observation Scale for Elderly Subjects (MOSES)
Veterans Affairs (VA) Saint Louis University Mental Status Examination (SLUMS)
Weight
Wounds — Gosnell Scale
Wounds — Payne-Martin scale for classifying skin tears
Wounds — Pressure Sore Stage
Wounds — Waterlow Scale
Each month, we add more assessments. Our users get these updates for free.